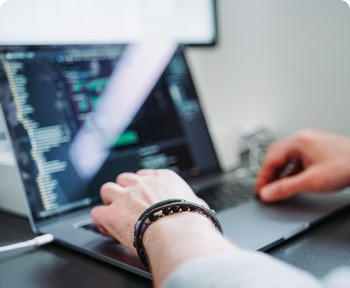 Architecte Technique Java / JAVA Technical Architect
TEKsystems
10/15/2020
Posting ID: 7341338
Description générale:
Ce poste est chargé de diriger les solutions d'architecture technique pour les applications logicielles complexes. Le rôle guidera le développement de solutions tout en travaillant en coopération avec une équipe dédiée.
Principales responsabilités et priorités:
Responsable de l'architecture d'une solution logicielle à mettre en œuvre par une équipe de développement dont l'architecte est membre.
Responsable de la conception, de la documentation et de la mise en œuvre des composants, des logiciels et des couches nécessaires aux implémentations logicielles complexes en fonction des exigences et des spécifications de conception.
Collabore avec l'équipe de développement de logiciels pour estimer, planifier, concevoir et fournir des logiciels. Encadre et guide les autres membres de l'équipe dans les pratiques de conception, de codage et d'ingénierie logicielle.
Comprend la direction architecturale et les normes de l'organisation et aide à s'assurer que l'équipe les respecte correctement.
Participe à toutes les phases du cycle de développement du logiciel, de la collecte des exigences initiales à la livraison.
Dirige l'effort initial d'élaboration d'architecture au début du projet et soutient l'effort de collecte des exigences initiales (notamment lorsqu'il s'agit de comprendre et de faire évoluer les exigences non fonctionnelles de la solution).
Guide l'évolution de l'architecture tout au long de la construction du logiciel.
En tant que membre du groupe d'architecture d'entreprise, prend en charge la pratique de développement d'applications dans l'établissement, la promotion et la gouvernance des normes et pratiques utilisées dans les projets de développement de logiciels.
Participe aux activitésd'avant-vente, notammentaudéveloppementdel'architectureproposéeet à l'estimationdel'effortde travail.
Formation et / ou expérience requise:
10 ans et plus d'expérience en développement de logiciels.
5 ans et plus d'expérience de développement en Java.
2 ans et plus d'expérience en tant qu'architecte.
2 ans ou plus d'expérience avec AWS ou Azure
Expérience avec JSP Java, SpringBoot MVC, pile J2EE, EJB3 et Struts
Expérience avec l'architecture de Microservices
Expérience de travail avec une méthodologie Agile et développement itératif.
Expérience des pratiques telles que les tests unitaires, l'analyse statique et l'automatisation de la construction.
Expérience dans le mentorat et le coaching d'employés.
Bonnes compétences en communication.
Bonnes compétences en leadership.
Doit pouvoir encore coder.
Capacités et / ou compétences requises:
* Posséder de solides compétences interpersonnelles telles que l'écoute efficace, l'empathie, la patience et la capacité de guider prudemment un utilisateur tout au long des étapes de la résolution de problèmes, à distance ou en personne.
* Habileté «Embrasser l'inconnu» - être capable de rechercher et d'apprendre par soi-même de nouveaux concepts et idées, puis de les partager avec le reste de l'équipe technique.
* Expert en gestion d'incidents / demandes de changement, allant de tous les niveaux de complexité, avec la capacité instinctive d'identifier le moment pour faire remonter un problème au niveau de support suivant. * Capacité à hiérarchiser / assigner les tâches, pour eux-mêmes et / ou les membres de l'équipe moins expérimentés, de la manière la plus efficace possible afin de fournir des solutions rapides et de haute qualité.
* Capacité à documenter / concevoir efficacement des approches complexes de conception logicielle et à suggérer des solutions alternatives.
* Capacité à encadrer efficacement les membres de l'équipe junior.
* Capacité à rendre compte des métriques des tâches assignées / terminées par l'équipe (le cas échéant).
* Attitude proactive.
* Très bonnes compétences interpersonnelles pour communiquer efficacement avec les clients.
* Esprit d'équipe et capacité à travailler individuellement.
* Excellentes aptitudes à la communication en anglais et en français, à l'écrit et à l'écrit.
* Capable de travailler dans un environnement diversifié.
*********************************************
This position is responsible for leading the technical architecture solutions for complex software applications. The role will guide the development of solutions while working cooperatively with a dedicated team.
Key Accountabilities and Priorities:
* Responsible for the architecture of a software solution to be implemented by a development team of which the architect is a member.
* Responsible for designing, documenting, and implementing the components, software, and layers required for complex software implementations based on requirements and design specifications.
* Works with the software development team to estimate, plan, design, and deliver software.
* Mentors and coaches other team members in design, coding, and software engineering practices.
* Understands the architectural direction and standards of the organization and helps to ensure that the team adheres to them appropriately.
* Participates in all phases of the software development lifecycle, from initial requirements gathering to delivery.
* Leads the initial architecture elaboration effort at the beginning of the project and supports the initial requirements collection effort (particularly when it comes to understanding and evolving the non-functional requirements for the solution).
* Guides evolution of the architecture throughout the construction of the software.
* As a member of the Enterprise Architecture Group, supports the Application Development Practice in establishing, promoting, and governing the standards and practices used across software development projects.
* Participates in pre-sales activities, including development of proposed architecture and estimation of work effort.

Required Education and/or Experience:
* 10+ years of software development experience.
* 5+ years of development experience in Java.
* 2+ years of experience as an Architect.
* 2+ years of experience with AWS or Azure
* Experience with Java JSP, SpringBoot MVC, J2EE Stack, EJB3, and Struts
* Experience with Microservices Architecture
* Experience working with an Agile methodology and iterative development.
* Experience with practices such as unit testing, static analysis, and build automation.
* Experience in mentoring and coaching employees.
* Good communication skills.
* Good leadership skills.
* Must be able to still code.

Requisite Abilities and/or Skills:
* Have strong interpersonal skills such as effective listening, empathy, patience, and the ability to carefully walk a user through problem resolution steps either remotely or in person.
* "Embrace the Unknown" ability - be able to research and self-learn new concepts and ideas and then share them with the rest of the technical team.
* Expert in handling incidents/change requests ranging from at all levels of complexities with the instinctive ability to identify when to escalate an issue to the next level of support.
* Ability to prioritize/assign tasks, for themselves and/or more junior team members, in the most effective manner in order to deliver solutions in a timely manner of high quality.
* Ability to effectively document/design complex software design approaches and suggest alternative solutions.
* Ability to mentor junior team members effectively.
* Ability to report team metrics of tasks assigned/completed (when applicable).
* Proactive attitude.
* Very good interpersonal skills to effectively interface with customers.
* Team player and ability to work individually.
* Very strong communication skills in both English and French, both spoken and written.
* Able to work in a diversified environment.
About TEKsystems :
We're partners in transformation. We help clients activate ideas and solutions to take advantage of a new world of opportunity. We are a team of 80,000 strong, working with over 6,000 clients, including 80% of the Fortune 500, across North America, Europe and Asia. As an industry leader in Full-Stack Technology Services, Talent Services, and real-world application, we work with progressive leaders to drive change. That's the power of true partnership. TEKsystems is an Allegis Group company.
Contact Information
Recruiter: Jeannie Riel
Phone: (514) 840-6233
Email: jriel@teksystems.com