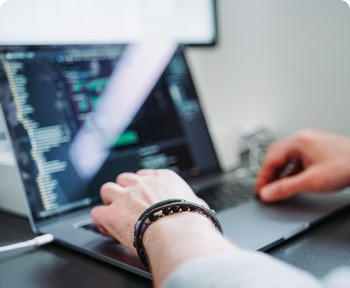 Senior Consultant - Public Sector
World Wide Technology
12/13/2021
Posting ID: 5000775341906
Want to work with highly motivated individuals that come together to form a high-performance teams? Come join WWT today!
What is the Public Sector Team and why join?
We are hyper-focused on providing business outcomes for our clients. We take on the most challenging problems our customers face and provide innovative solutions that can involve data strategy, use cases & analytical modeling, data governance, AI/ML platforms, and enterprise architecture strategy. Our proven history of successful collaborations and long-standing, deep-rooted public-private partnerships has solidified WWT as the leading technology solution provider among today's government agencies. We are made up of consultants from top firms, former federal, state and local CIOs and IT leaders, data scientists with PhDs from the top universities, and engineers with experience in industry and government agencies. We collaborate with our clients to design, build, demonstrate and deploy integrated solutions using best-of-breed technology and suppliers. No matter what public sector agencies are trying to accomplish, WWT is the partner they trust to achieve the mission.
Check us out on our platform to learn more about:
WWT Public Sector Team: https://www.wwt.com/public-sector
WWT Consulting Services: https://www.wwt.com/consulting-services
WWT Analytics & AI Consulting: https://www.wwt.com/business-and-analytics-advisors
What you will be doing:
World Wide Technology, Inc. (WWT) is currently seeking an Senior Consultant to assist with the sale and delivery of Management Consulting for large Public Sector clients. The Senior Consultant drives material business cases that generate significant, transformational work. This requires building strong relationships with customers by understanding their needs, helping to shape their technology and business solutions, and bringing the best of WWT to address their most critical business issues.
This role requires prior Public Sector experience across Federal/State/Local sectors and the ability to attain security clearance.
Key Responsibilities
W

ork as part of a core team serving WWT's Public Sector customers, including Consulting Services, Enterprise Architects, Chief Technology Advisors, Chief Digital Advisors, Directors, Account Managers, Engineers and Architects.

R

esponsible for Project Ownership and End Products, and contribute to the analysis, design, and implementation of business performance to ensure positive impact and sustainable results.
Own the problem statement for the customers as leader of day-to-day services delivery
Own the documentation and organization responsibilities around complex projects, delivering strong analytical, quantitative, and conceptual thinking skills and effective interpersonal and communication skills to ensure successful client projects & team performance
Serve as the "face" of the Public Sector practice to both the internal WWT Public Sector salesforce and external customers
Work with the WWT account teams to educate them and help drive business development and sales
Actively pursue business opportunities at large, complex customers; work with clients and internal WWT Teams to develop and negotiate statements of work, including project scope, deliverables, timelines and costs
Foster a culture of Entrepreneurship
Understand customer needs and make recommendations at the BU/Division Head levels
Understand the breadth of what we sell so that we are bringing the best of WWT to the customer through introducing and selling cross business services that help expand WWT's footprint
Manage and develop junior consulting teams
Lead marketing efforts in the region to new/existing customers, including writing white papers, attending and presenting at conferences
Develop strong relationships with WWT's core technology partners in the data and analytics areas
Achieve revenue and profit growth for the Public Sector practice
Previous Work Experience: 5-7 years of business experience, Minimum of 3 years of Management Consulting experience with a leading firm, Minimum of 3 years of Public Sector experience across Federal/State/Local sectors required

Education: Senior Consultant:

Bachelor's degree in STEM Field required, Masters in STEM Field preferred

Security Clearance: Ability to attain security clearance required. Existing security clearance preferred

Expertise: Extremely strong, hands-on expertise in MS Office Suite-Excel, PowerPoint, Word, Project required

Experience in report designing & visualization tools such as AWS QuickSight, Tableau, etc. preferred

Strong problem solving, multitasking, organization and time management skills required

Expertise in analyzing and reporting on complex data and experience with various data and analytics solutions required

Background in Big Data analytics and technologies preferred; Gov Cloud, Public Cloud, FedRAMP requirements, and application migration preferred

Teamwork/Communication Skills: Ability to work with remote, cross-functional teams with diverse points of view; Excellent interpersonal and communication skills

Exceptional client communication skills, both written and oral
Location/Travel: Remote job with preferred locations: NYC, DC; Up to 50% travel

This role may require on-location work with WWT customers. Some customers may require WWT employees and contractors coming on-site to be vaccinated against COVID-19 and/or to receive frequent negative COVID-19 testing.
Diversity, Equity, and Inclusion is more than a commitment at WWT -- it is the foundation of what we do. Through diverse networks and pipelines, we have a clear vision: to create a Great Place to Work for All. We believe inclusion includes U. Be who U are at WWT!
The well-being of WWT employees is essential. So, when it comes to our benefits package, WWT has one of the best. We offer the following benefits to all full-time employees:
Health and Wellbeing: Health, Dental, and Vision Care, Onsite Health Centers, Employee Assistance Program, Wellness program
Financial Benefits: Competitive pay, Profit Sharing, 401k Plan with Company Matching, Life and Disability Insurance, Tuition Reimbursement
Paid Time Off: PTO & Holidays, Parental Leave, Sick Leave, Military Leave, Bereavement
Additional Perks: Nursing Mothers Benefits, Voluntary Legal, Pet Insurance, Employee Discount Program
World Wide Technology, Inc. offers excellent benefits and competitive compensation. Visit our company web page at www.wwt.com for more information.
Job Number: #21-1632
Posting Locations:
Annapolis Junction, Maryland
Tyson's Corner, Virginia
Landover, Maryland
Chantilly, Virginia
New York, New York
Baltimore, Maryland
Herndon, Virginia
Reston, Virginia
Washington, District of Columbia
Contact Information
Recruiter: Jean Chambers
Phone: (410) 579-3072
Email: jchambers@careercircle.com