From Promises to Progress: How To Promote Equity in Staffing and Recruiting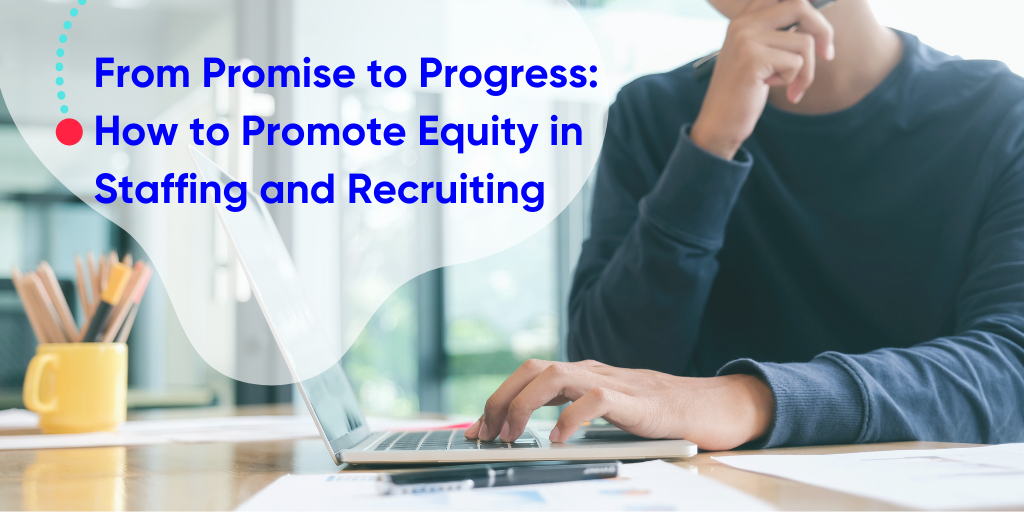 The majority of organizations genuinely care about workplace diversity and promoting equity in recruiting; they just don't know how to get started.
Hiring managers and DE&I leaders likely know they need to improve, but it takes more than an idealistic vision or even mutual motivation to get the wheels turning internally. These teams need tools that can help them:
Find a diverse talent network
Support candidates in that network
Assess skills and aptitude effectively
Address internal change management
Dissolve longstanding bad habits in their organization
Fostering true workforce equity requires a personal approach to hiring, not a one-size-fits-all solution or an automated resume sorting tool.
Yes, everyone can apply for an open position, but will they get an opportunity to present their skills in unique ways? If not, hiring managers will miss high-value candidates due to mismatched keywords and atypical past experience that won't pop up in a traditional search.
In this post, we'll explore the current state of corporate DE&I, touching on common challenges and offering attainable solutions for hiring managers looking to put their commitments for equity staffing into practice.
1. Start at the top of your staffing funnel.
First and foremost, consider which candidates are finding your organization, and how. If your referral base or talent pools aren't diverse, your candidates likely won't be either. And if the candidates entering your talent pools look exactly like your existing staff, you'll end up moving backward instead of forward.
It takes intentional work to shift that top-of-funnel resource. You'll likely need to work with external organizations, like non-profits and other underrepresented groups, to find and connect with a new, diverse set of job seekers. Additionally, you may consider partnering with a staffing agency to seek out new talent pools or even foster high-value non-profit relationships through a trustworthy third party.
2. Optimize your sourcing and vetting processes.
Once qualified, diverse candidates make it into your recruiting funnel, you need an equitable way to identify potential matches and evaluate their skillsets. Generic job boards and automated applicant tracking systems (ATS) are often ineffective since the wrong keyword in a resume can mean the difference between a right-fit employee and a missed opportunity.
Instead of relying on legacy tools or outdated vetting processes, look for new ways to identify and evaluate talented candidates. You may choose to ditch the resume requirement in favor of a chat over the phone or Zoom. You could also request a quick video introduction or give candidates the creative freedom to choose how they present themselves to hiring managers.
Remember, you're not just hiring someone for how they look on paper; you need a talented, highly motivated team member that will mesh well with your existing staff and align with your company culture. Giving candidates the chance to show you the best sides of themselves – like their unique life experiences or passion projects – offers you both a better chance at success.
3. Prioritize equitable access to resources.
Upskilling and training programs help connect the dots between candidate skillsets and the technical expertise required for a job. And offering relevant upskilling resources to high-value candidates is a great way to ensure they'll thrive inside your organization.
But it's also essential to consider how you ensure each candidate can access the resources and tools they need to succeed. If you're offering a certification course with help from a third party, have you considered the additional details and constraints that may prevent candidates from taking advantage of them? Simply offering the course isn't enough. Equity staffing means exploring:
How to find financial support for candidates who can't invest $2k in training
When to offer additional resources like career mentoring or similar training options
How to support candidates who may not have access to a computer or other required hardware
Just because hiring managers need to consider these elements doesn't mean they're expected to source them on their own. Organizations can work with upskilling agencies or staffing partners to connect candidates with the additional resources or personal support they need to complete certifications, share their skillsets, and more.
4. Bring in outside help when you need it.
Recruiting new candidates can feel overwhelming on its own. And when leadership teams are looking to rethink their DE&I approach while still keeping the talent pipeline flowing in the background, progress can quickly go stagnant.
Staffing agencies can help keep your recruiting operations running smoothly by giving your teams valuable time back in their days and empowering hiring managers to make better staffing decisions. They can also bolster your DE&I efforts with candidate advocacy programs, diverse talent sourcing, and team training on key diversity and equity initiatives.
-
At CareerCircle, we'll help you design actionable solutions and company culture initiatives that deliver measurable progress against your DE&I goals. Plus, we'll follow through with diverse acquisition strategies and talent resources to ensure you match right-fit candidates to your open role.