CareerCircle
Job Search & More
CareerCircle was founded in 2019 to bridge the skills gap facing the technology industry. Our Managing Director Kim Sneeder brought her 25 years of experience at Allegis to this new venture and made CareerCircle's success her passion.
"I was given the incredible opportunity to build CareerCircle with a focus on serving underrepresented talent in tech. During my career, I have constantly worked to advocate for women and people of color in the tech industry, but CareerCircle has given me the chance to do that work at scale. We've since built an ecosystem of 150 nonprofits, upskilling opportunities, and wraparound career services with a heightened level of advocacy to help our incredible members secure life-changing roles."
Our platform has been growing every day since then and in 2023 we have become the exclusive jobs platform for US-based Google Career Certificate graduates and the Google Employer Consortium, reached over 100,000 members, placed over 1,500 people into new jobs, and, by the end of the year, we will have helped to upskill more than 10,000 people.
What Is CareerCircle?
Through our digital talent platform, we connect underserved community members with career resources like certificates and the job opportunities that they need to advance their lives and provide companies with the diverse, skilled talent they are looking to hire.
Think of our platform like a circle.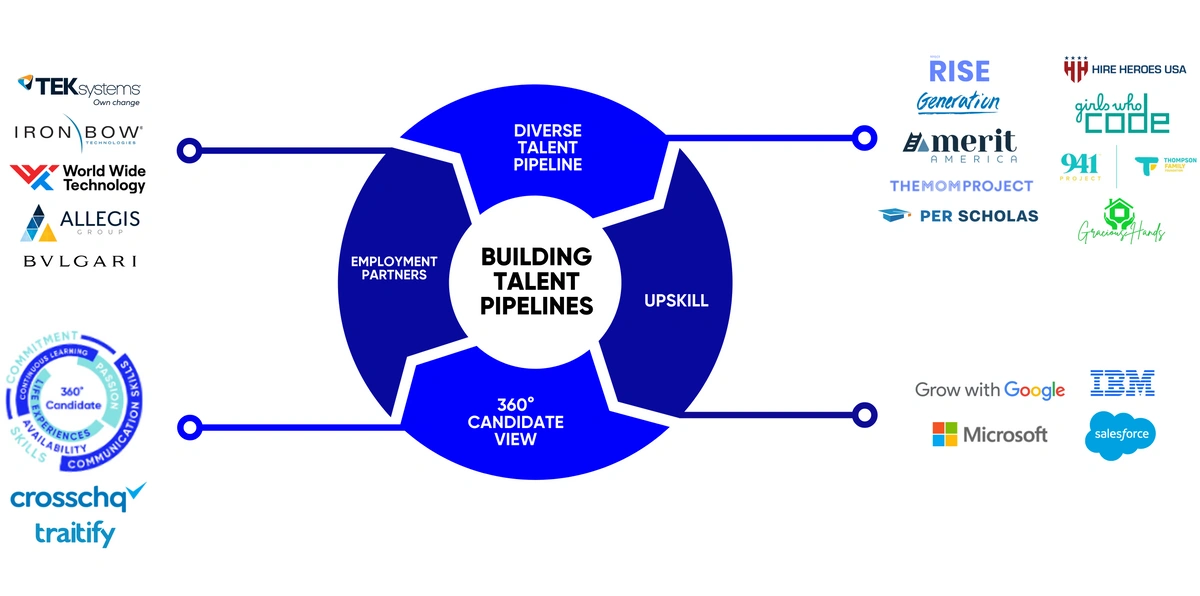 Members join our free platform either on their own, through certificate scholarship opportunities from our nonprofit partners like RISE, or after completing upskilling certificate programs like the Google Career Certificate program.
If a member joins through a scholarship opportunity, they are provided a Member Experience Advisor to guide them through their certificate program and act as a champion and advocate throughout their career journey.
After their upskilling is complete, we help members build out their profile through Traitify Assessments and personality quizzes that help members understand their values and skills in the workplace. When they're ready to job search we provide tools like resume builders and templates, interview preparation tools, and 1:1 career coaching. Members can also take a proactive role in their job search by using job alerts and our job board to find the right job for their goals.
Throughout this entire process, our recruiting team is using our talent platform as a diverse talent pipeline to pull candidates for open positions and provide that dedicated recruiting support that people can't get anywhere else. Our employment partners get the diverse, skilled talent that their organizations need to be successful and we place our members in jobs that change their lives for the better.
Our Impact
According to a 2021 Wiley survey, 68% of business leaders feel there is a lack of diversity in the tech industry and 51% say they struggle to hire diverse entry-level talent. When we were founded we aimed to bridge the skills gap and made it our mission to find jobs for communities who are often underrepresented in the technology industry.
We approach that mission with an equity over equality mindset that ensures that each member gets the direct support they need, no matter their circumstances. And the same goes for our employer partners. We approach every member, organization, and nonprofit by being a consultative partner to ensure that our strategy is catered to their success.
And it's working.
According to a Zippia study, just over 26% of tech jobs are held by women, and in the US tech industry, 62% of jobs are held by white Americans, while Black Americans hold 7%, Latinx Americans hold 8% and Asian Americans hold 20% of jobs.
Meanwhile, at CareerCircle, our 2023 placements are significantly more diverse. So far this year:
32% are Black
28% are white
25% are Hispanic
14% are Asian
36% identify as Women
How to Get Involved
We are constantly growing, adding new features, and committed to bringing our services to anyone who needs support to make a career change, grow their skills, or just explore how upskilling with advocacy support can change their life.
If you're a job seeker:
Join the platform: If you haven't already, join the platform to get access to free job resources like resume builders, interview prep, and 1-on-1 career coaching. You can sign up here.
Apply for jobs: Our job board is filled with roles for people looking to break into the technology industry. Remember: You need to be a member to use the job board and set up a job alert so make sure to join first!
If you're an organization:
Get direct recruiting support: If you're looking to post a job, get direct recruiting support, access our platform, or be a part of a custom or multi-employer virtual job fair, get in touch with our team to learn how we can get you set up.
Sign up for an employer account: Our free employer account allows you to get a preview of using the platform for your sourcing needs. You can sign up here. Remember: You need to use your company email to register.