Mannerisms for Job Interviews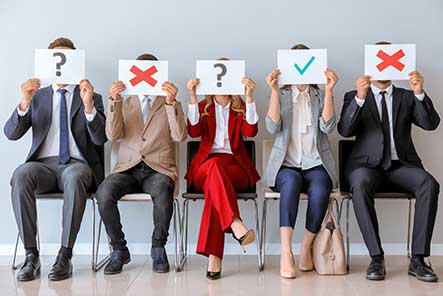 Let's suppose after the hectic process of researching potential employers and submitting your resume to a bunch of different companies, and you finally land yourself an interview. Do you know how to navigate yourself in that situation? Do you know how to present yourself? How to project confidence? If not, then say no more we got you covered with the basic do's and don'ts of an interview.
Do's
Research About the Job
You need to research beforehand about the job position you're applying for; you need to know what the company does and what your responsibilities will be after you get hired.
Dress Appropriately
To choose your dress for the interview, research the company on different social media platforms, and learn about their workplace culture and clothing accordingly. Remember it's always a good idea to go more formal than required. Personal hygiene and grooming are of paramount importance; you don't want to come off as a slacker.
Be Punctual
The first impression you make is extremely important, that's why it is vital that you arrive on time, in fact, the best thing to do is being ten minutes early which will give you time to freshen up and clear your head.
Project Confidence
Once you get in the interview room, offer a firm handshake, make eye contact, and be friendly. And when you're seated, sit up straight and lean a bit forward. Use the right amount of hand gestures while speaking; this avoids you from hiding your hands and makes your palms visible which means that you're honest and engaging. Nod your head while listening to the interviewer. Be relaxed, as the interview is designed to see what makes you rattle, and if you rattle easily, that will come off as you can't handle the pressure.
Converse
You're giving an interview instead of giving or listening to a ted talk or performing a standup comedy session that's why it's essential that you carry the conversation. It should go back and forth like a sweet round of tennis. Let the interviewer ask the questions they want to be answered because their job is to assess if you're the right candidate for the job, and if you need time to answer a certain question, just ask if you can think for a second before you answer.
Ask Relevant Questions
Asking relevant questions that you didn't find in your research is essential as it shows that you're interested in the job and not just phoning it in.


Don'ts
Lie or Trash talk
You might be tempted to lie or trash talk about past employers or about your last job to land the job you're interviewing for, avoid it at any cost as it will not win you any points. Instead, it will make you seem petty or a risky hire. Avoid lying on your resume about skills, you don't want to look like a fool once you're given a job you lied about as you might end up getting fired and have to redo the whole process again.
Act Desperate
Being unemployed is hard, especially if you've been unemployed for a long time as you might be in debt. That's why it mustn't seem like you're doing the job just for the salary and have no interest in the job.
Act Aloof
Don't be late for the interview, don't slouch or sit in a negative posture, don't chew gum, keep your phone on silent mode and avoid using it during the meeting.


The Bottom Line
Job hunting is hard, but knowing the basic interview etiquette will help you get the job you want.
Good Luck!