A New Wave in Recruiting: How Returnships Help Employers and Candidates Get Ahead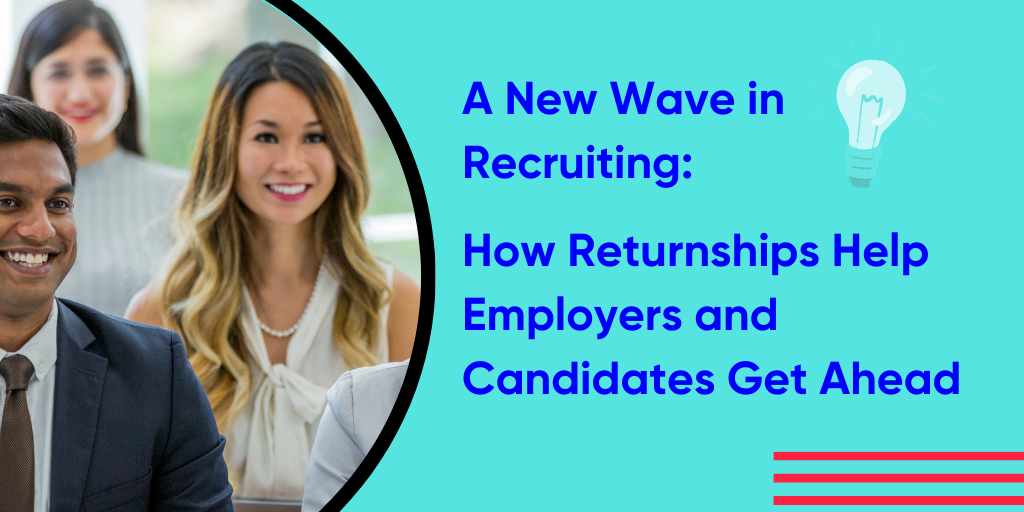 As the world recovers from a global pandemic and businesses find their place in the 'new normal' of the professional landscape, many hiring managers are looking to fill open roles with highly motivated, qualified talent.
Newly skilled candidates are ready to rejoin the workforce after a layoff, resignation, or extended time off to care for their at-home students, and recruiters want to strengthen their talent pipeline after a hiring freeze.
However, there's a missing link that's keeping both parties at bay: a lack of real-world training and experience. Many potential candidates took advantage of upskilling opportunities during their time at home, like:
online courses
virtual bootcamps and workshops
digital certification programs
The unusual circumstances of the last 15 months didn't leave many opportunities for on-the-job experiences, immersive training programs, or other high-value skill development.
Employers and job seekers alike turn to returnships to fill critical skill gaps and set themselves up for success in the long term. While the term 'returnship' is quickly gaining attention on LinkedIn and various job sites, this style of professional learning opportunity has been around for a while.
In this post, we'll outline exactly what a returnship program is, how it benefits employers and candidates alike, and how to cash in on this dynamic approach to talent acquisition.
Clarifying the "Returnship" Conversation
In short, a returnship is a type of professional learning experience designed specifically for professionals returning to the workforce after an extended period of time off.
Returnships enable working professionals to rejoin the workforce while also accounting for shifts in career trajectories and individuals entering new industries, with a paid opportunity to learn on the job and participate in professional mentoring programs. Some organizations may offer specialized returnship programs to support underrepresented groups that have been disproportionately affected by unemployment spikes, like mothers or veterans.
They're similar to other professional training programs, including:
Internships are typically directed at recent graduates or individuals with little to no work experience. An internship can be paid or unpaid and likely has no defined structure; it's simply focused on general learning and training.
Apprenticeships are ideal for aspiring practitioners of a trade or profession, who need on-the-job training. Apprenticeships may also include opportunities to gain a license to practice in a regulated profession.
Residencies historically applied to the medical field, but many technology companies are introducing 'residency' programs in which participants fill introductory, paid roles within a company to jumpstart their careers in the field.
In short, all of these immersive programs are bound together by a central goal: to prepare candidates for future roles.
For employers, the defining factors behind a returnship, internship, or any other -ship lies in the implicit value of learning by doing instead of learning by observation.
These programs proactively build talent pipelines by giving candidates access to the curriculum they need, allowing them to shadow mentors or peers within the organization, and letting them apply new concepts in real-time through practical experience on actual projects.
A Mutually Beneficial Recruiting Strategy
| | |
| --- | --- |
| Candidate Benefits | Employer Benefits |
| Access to in-demand skills and upskilling curriculum | An internal shift from reactive to proactive recruiting |
| A chance to invest in their career without losing compensation opportunities | A chance to strategically build internal career paths from the ground up |
| Improved morale and motivation | Reduced stress on internal hiring teams |
| New career opportunities through their returnship agency | |
| Holistic skill development and practical learning applications | Opportunity to vet candidates over time, rather than relying on resume sweeps or a single interview |
| Progress towards long-term career goals | Assurance that returnship hires can fill their new role effectively |
The Foundation of an Effective Returnship Program
No matter which talent pool or candidate segment you're targeting, your enablement program should include the following core elements:
Curriculum: online courses or content offers support 'real world' training with literature that reinforces key points or fulfills certification requirements. Additionally, consider offering certification courses for relevant roles in your organization.
Training: this will likely vary based on your industry, but it's essential to pair on-the-job work time with training resources. You'll likely be able to tweak your existing onboarding and initial training resources to fit your returnship participants.
Mentoring: the best way to learn a new skill is by asking the right questions to the right people. Consider a 'buddy system' to pair participants with current employees, and be sure to establish internal expectations long before the program begins.
Work time: while it can be daunting to let trainees contribute to real projects, it's the best way to promote learning. You can implement QA processes to ensure a current employee reviews their work before client handoff.
-
Just as the job market faces rapid growth and realignment, the recruiting industry is ripe for change. Talent acquisition teams need to adopt proactive, holistic hiring strategies that consider untapped talent pools and match right-fit candidates to open roles, even when they don't have time to skim through hundreds of cookie-cutter resumes or generic online profiles with half-completed information or outdated contact details.
Returnships and similar professional learning experiences offer a mutually beneficial opportunity on both sides of the aisle. Still, it's not as simple as posting an online offer and tossing returnship participants into the fire on day one.
Hiring managers need a reliable support system to help design, develop, and implement these programs while also sourcing and matching right-fit participants to returnship opportunities.
-
Our workforce development platform is an all-inclusive ecosystem for hiring managers looking to establish returnship programs in their own organization, with tools that help you source, assess, and match candidates to open roles and career development opportunities.
Want to learn how CareerCircle can help you refine your talent acquisition strategy with returnships, upskilling, and other non-traditional hiring tools?
Reach out to our team today to get started.