Building Proactive Talent Partnerships: 4 Reasons Companies Use Staffing Agencies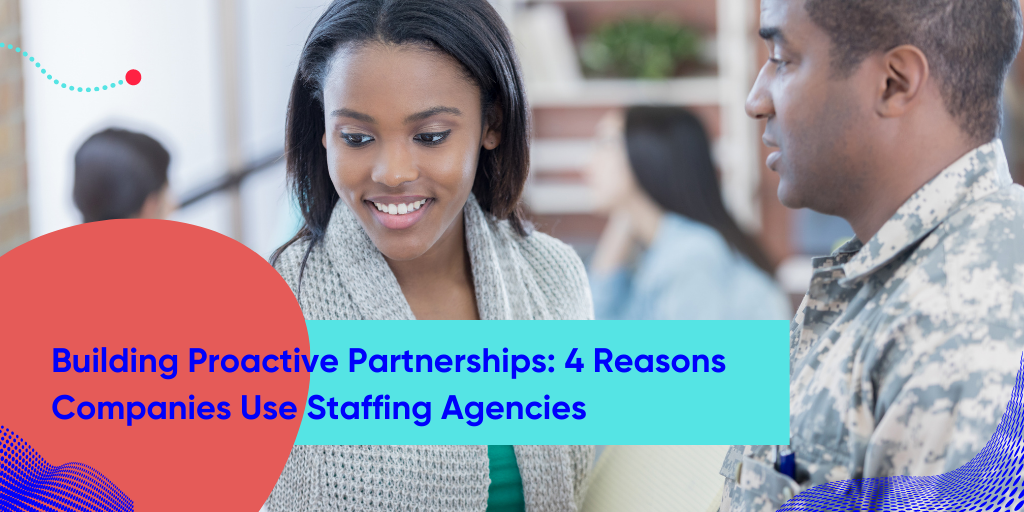 As the workforce returns to the office post-pandemic, the newly rejuvenated talent marketplace is buzzing with activity.
Recent shifts in job availability have led to increased job-hopping, and 42% of employed job seekers feel confident about their chances of advancing their careers. On the flip side, candidates re-entering the workforce presents new opportunities for hiring managers to diversify their talent sources.
Additionally, organizations are entering a growth period after nearly 17 months of uncertainty. Their talent teams want to take advantage of various job seekers entering or transitioning into specialized industries, such as IT and engineering.
However, the growing demand for high-quality, motivated talent means more work for hiring managers and internal recruiters. And rather than leaning on churn-and-burn or reactive hiring models, these teams need expert support to establish an effective recruiting strategy.
In this post, we'll share four reasons companies use staffing agencies to set their talent teams up for success.
1. Reach New Talent Pools
Online job boards are probably the most popular recruiting tool on the market. They aggregate a large pool of candidates and require minimal technical expertise, but these sources still pose a few challenges for recruiters.
These sites typically use AI and automation to identify candidates by resume information or specific pre-defined keywords in their bio. This approach produces a list of candidates quickly but doesn't account for the 'human' aspect of hiring, which actually creates more work for internal recruiters in the interview and evaluation stages. Plus, these widely used talent pools can easily go stagnant, presenting recruiters with the same list of potential candidates time and time again.
With the right talent partner, your teams will gain access to new, exclusive talent pools with candidates they wouldn't find on the open market. Plus, a staffing agency can offer non-traditional sourcing strategies that include the qualifications that most big-box job boards typically don't consider.
2. Connect with Diverse, Qualified Candidates
One of the biggest reasons companies use staffing agencies is because of the lack of talent diversity. Recruiters on the same talent team tend to think comparably and produce similar search results. Sourcing talent through a staffing agency won't just increase the number of candidates you reach but also the quality of each candidate in your talent pipeline. That means you should steer clear of staffing partners who boast rapid results and don't share insights into how they source and vet job seekers.
The right staffing agency will take a unique approach to talent and evaluate each candidate on a personal level. They can go a step deeper than resume-based evaluations, with capabilities like:
Interactive video introductions
Personality and career assessments
Bios that create a 360 view of each candidate
These tools help your teams evaluate characteristics like work ethic, flexibility, and real-world experience in addition to professional expertise and technical skills. Plus, this holistic evaluation process supports diversity, equity, and inclusion by giving recruiters access to diverse candidates and allowing them to evaluate them on an equitable scale.
3. Speed up the Hiring Process
A staffing agency should do more than present your internal team with a list of available candidates. They should offer reliable, expert support every step of the way, from the initial talent search to a new employee's first day on the job. This includes sharing tasks with your recruiters and hiring managers, such as:
Outlining high-level hiring goals
Defining candidate criteria
Creating comprehensive job listings
Reviewing resumes and candidate information
Identifying best-fit candidates
All of these supporting steps, coupled with proven best practices and expert guidance, will help your recruiters spend less time reviewing stacks of resumes or conducting dozens of interviews each week. Companies use staffing agencies because they offer the right mix of tools and techniques — like job listing templates, interview strategies, and more — to reduce your staff's daily workload and speed up the hiring process without compromising candidate quality.
4. Prepare Your Organization for Ongoing Success
Partnering with a staffing agency doesn't just benefit your recruiters and hiring managers. When these teams can source high-quality talent quickly and accurately, they're able to support the growth and future development of your organization as a whole.
Investing in new staffing and recruiting strategies will help you develop a proactive approach to talent acquisition, allowing you to forecast and meet long-term staffing goals. Your staffing agency partner can help you create a more robust talent network over time and offer industry-leading recommendations to refine or polish your approach to sourcing and staffing.
Plus, direct hiring through an agency typically results in higher levels of employee loyalty and stability due to candidate-friendly hiring practices and clear, upfront communications about expectations for both parties.
-
Partnering with a staffing agency can streamline your hiring efforts and prepare your organization for ongoing success. However, the value of your partnership hinges on the staffing agency you choose to employ.
As you narrow down your options, consider not only what the agency can do but why they're offering these resources in the first place. The best hiring tactics center around candidates and employers alike, ensuring each party finds the best fit and receives ample support along the way.
CareerCircle's commitment to candidate advocacy and supporting underrepresented groups gives us a unique perspective on what it means to be qualified for an open role.
We work with various non-profits and other talent groups to find diverse, highly motivated job seekers and support their career success through upskilling and mentoring.
Then, we make it easy for your hiring teams to identify and connect with right-fit candidates through an online platform that streamlines job creation, talent searches, and candidate evaluation through a single, easy-to-use hiring manager dashboard.
Looking for more ways to build a high-value talent pipeline? Download our free talent pipeline checklist to get started.