The Power of Partnership: How Staffing Agencies Promote Equitable Workforce Development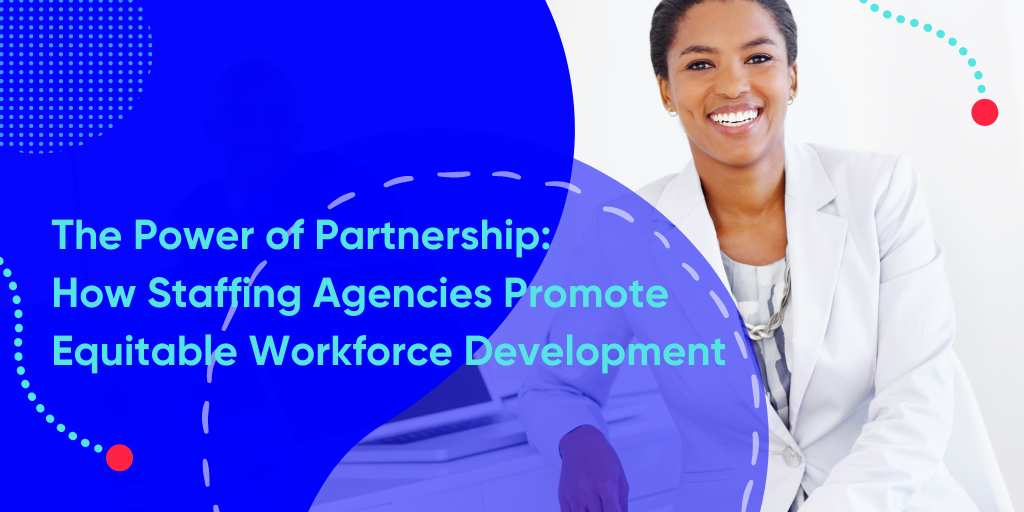 Diversity, Equity, and Inclusion (DE&I) leaders and hiring managers are actively looking to turn the challenges of 2020 into equitable hiring strategies for the future. However, putting these diversity and inclusion plans into action requires more than pure intentions and accurate goal setting.
Your hiring staff and DE&I teams already balance an ever-growing number of internal tasks, plus the occasional firefight or last-minute requests from higher-ups. And adding new DE&I initiatives to their already-full plates isn't always a viable option.
So, how can you put your high-level plans for workforce equity into practice?
You need ongoing support from a reliable talent acquisition partner. The right staffing agency can champion various recruiting projects and promote equitable workforce development across your organization.
In this post, we'll highlight three ways a staffing agency can support your ongoing DE&I initiatives and help you build an equitable workforce.
High-Value Network Partnerships
It's impossible to interview and hire the right candidates if you can't find them in a growing sea of available talent. As recruiters look to diversify their sourcing strategies, they'll likely look to non-profits and other organizations that support underrepresented talent.
Unfortunately, it's not as simple as calling up a local non-profit employment agency or career mentoring program and asking for a list of contacts. These partnerships take significant time and trust investments to build and maintain – which makes outreach a daunting task for most internal hiring or DE&I teams who would need to manage:
Outreach to identify best-fit partners
Trust development through resource sharing, events, and other ongoing activities
Consolidating candidate information from multiple groups into a single database
Following up with non-profit partners after hiring affiliated candidates
The good news is, a staffing agency or similar talent partner can manage various non-profit relationships simultaneously, gaining access to new candidates and fostering long-term pipeline sourcing from underserved communities – like veterans, BIPOC, and moms re-entering the workforce. As a staffing agency acquires new partners and diversifies its network, recruiters get access to the resulting talent sources and candidate connections.
Nontraditional Candidate Assessments
The workforce is evolving as recruiters move away from traditional, resume-based evaluations to source right-fit candidates. A more holistic approach to hiring doesn't just humanize job seekers and save recruiters hours of paperwork – it also gives diverse, nontraditional candidates a better chance at connecting with the right employer.
However, it's not always realistic for recruiters to sit down with each candidate for an hour-long interview in place of an online application.
And when candidates hear, "You're more than your resume," they need an alternative way to showcase their personality and intangible skills – like work ethic, passion projects, and past experiences.
That's where a staffing partner can help on both sides of the aisle. They use personalized assessment tools to give job seekers a leg up and help recruiters match candidates to careers efficiently through:
Short video introductions
Personality assessments
Career assessments
These and other similar tools give candidates a chance to personalize their applications. Plus, they can show off their soft skills and make a real, human impression on hiring managers before their first interview or formal evaluation.
The best part? This approach scales internally, too. Rather than coordinating a long agenda of introductions, creating a new candidate questionnaire in-house, or letting personal preference come into play, recruiters can use their staffing partner's tools to create a holistic – yet scalable –approach to the evaluation and hiring process.
Accessible Training Resources
As employers, employment agencies, and other organizations explore workforce equity they're realizing that simply offering a single training tool or course to every candidate isn't enough. Each person has unique needs, constraints, and career goals that should inform how employers and other partners support their journey.
Tools like upskilling courses and online certifications help candidates stand out in a crowded job market. But simply offering up an available course doesn't mean everyone who's interested will get to attend. Some may need financial support, access to a computer, or pre-requisite mentoring to complete their certification or simply get through the course in the first place.
However, it's not feasible for individual employers to offer these resources to every job seeker in their industry or talent pipeline. They likely don't have the time to connect with and curate solutions for each candidate, and taking on the extra expenses themselves would drain their hiring budget in record time.
Top-tier staffing agencies work to get ahead of this deficit and set candidates up for success long before employers start to narrow down their list of prospects. They can offer accessible upskilling courses and source financial aid from their own partner networks.
Additionally, they'll work with industry leaders in IT and other high-demand fields to offer certifications at a discounted rate, or implement ongoing mentoring programs for job candidates. This collaborative approach builds trust between hiring teams, staffing agencies, and top technology brands. Plus, it further supports a diverse, qualified talent funnel for partnered employers.
-
CareerCircle offers upskilling resources, candidate advocacy programs, and career matching tools to help connect you with diverse, right-fit candidates and support the future of workforce equity. Our specialized IT upskilling produces the workforce leaders of tomorrow, while holistic candidate-to-career matching ensures applicants are an excellent fit for your organization.
Reach out to our team today to learn more about our talent marketplace and our commitment to creating equity in the workforce.