Navigating Your Career Journey: 4 Benefits of Using a Recruiter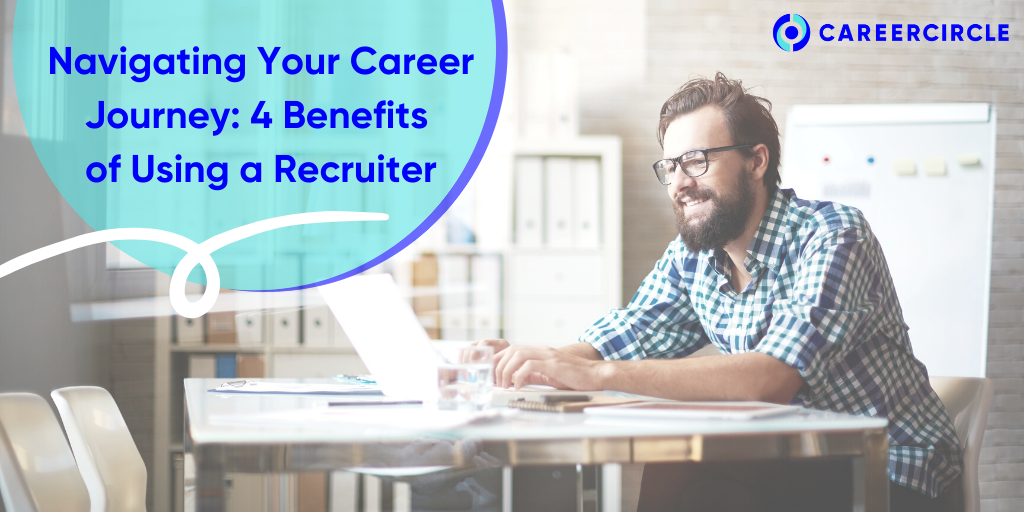 Navigating a job search can be — to put it mildly — a bit daunting. It's completely normal to have a level of stress and anxiety when looking for the right position, especially when you're going at it alone or balancing a job search while still employed elsewhere.
Partnering with a recruiter or similar career advocate can help you manage the workload associated with job hunting. Their guidance can help you make more informed decisions on how, where, and when you apply for open roles.
Here are four benefits of using a recruiter that can make finding the right job that much easier.
#1 Save Yourself Some Time
When you're in the process of finding a job, time is everything. Chances are, you're already balancing a lot. The time you spend searching for a new job can easily cut into the valuable hours you need to spend working or taking care of your family.
Reduce those hours spent clicking around on job boards by pairing up with someone whose entire workday is dedicated to finding the right match for you. Benefits of using a recruiter include that they can take on traditionally time-consuming tasks like:
Reviewing postings on online job boards
Matching your resume to relevant positions
Putting your name in front of hiring managers
Your recruiter will dive in on your behalf, leveraging their network connections and resources to multiply your chances of finding a job while reducing your time spent hunting for one. Not only do they have expert resources to streamline your job search, but they also have years of experience matching candidates to right-fit jobs and identifying the most valuable opportunities on the market.
#2 Connect to a Larger Network
Speaking of industry resources, your recruiter or career advocate likely has a diverse network of partners and potential employers. The right recruiter should have deep-rooted connections in your target industry. They'll know everyone from non-profit partners to enterprise corporations looking to fill open positions and expand their workforce.
Pairing up with a recruiter expands your network and gives you more credibility through their willingness to vouch for you. Not only do they know just about everyone in the business, but they also maintain a positive rapport with partners across their network.
Unlike a Google search that will bring you generic contact information for an employer's HR or talent department, your recruiter can advocate for you by name and facilitate personal introductions with potential employers.
A recruiter can act as an advocate, positioning you as an ideal candidate with a voice that will be taken seriously by hiring managers. Your recruiter should step up to the plate for you with various network contacts and establish connections that have real weight behind them.
#3 Access Relevant Training Resources
Many recruiters offer time-saving services and invaluable connections, but did you know they can also help you strengthen your resume or reach your long-term career development goals?
Sometimes, landing your dream job requires more than a standout resume or flawless job interview. You may need to step back and polish your skillset to prepare for your next role or move up within your desired industry.
The good news is, a top-tier recruiter will go beyond standard job search support to advocate for you throughout your entire career journey. They'll likely offer various resources to help you polish your resume and prepare for milestones in your job search, like an interview or skill evaluation.
They should also be committed to helping you reach your career goals, offering training resources and upskilling opportunities designed to give you the skills you need to succeed in your new position. Look for recruiters that provide digital tools like online certification courses, industry-focused upskilling, and virtual boot camps that enable you to build or refine your skillset to match potential job roles.
#4 Search With Confidence
Confidence is key when searching for the right job, whether it's confidence in your abilities, confidence in an interview, or simply the confidence in knowing that you're making the right decision in your life.
Benefits of using a recruiter include an instant confidence boost. They are experienced professionals that can offer that bit of extra help, motivation, and guidance you need to approach your career transition with confidence and get the tools you need to succeed in your job search.
At CareerCircle, our career advocates and recruiters bring a human element to the job search. We are truly driven by our mission to see your professional dreams come to life and support workforce equity at every turn.
Rather than leading with your resume or technical experience, we get to know the 360° view of you and offer proven strategies to present your complete skillset to potential employers.
Ready to power your job search with help from a dedicated team of recruiters and career advocates?