Your Career Transition: How to Conquer Change with Confidence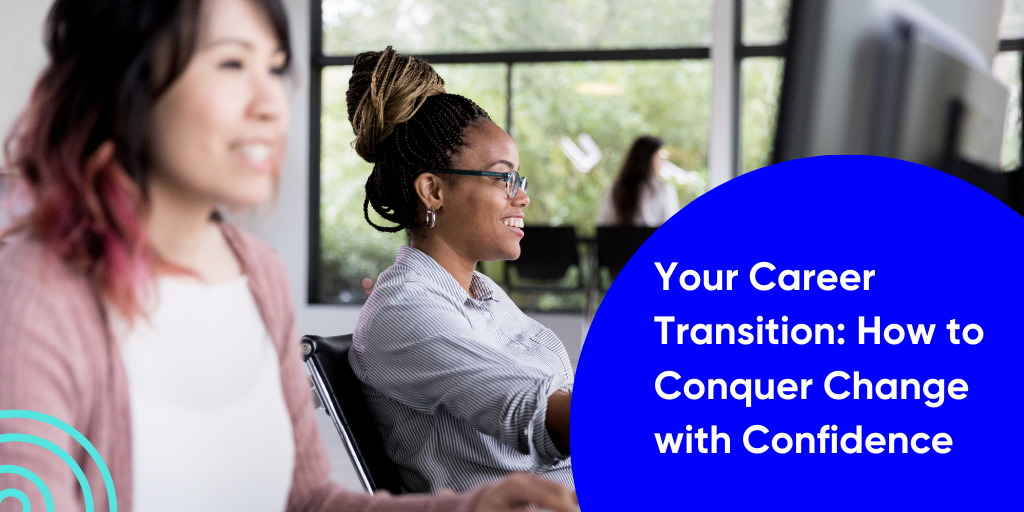 Career transitions are often equal parts exhilarating and intimidating. No matter what brought you to this pivotal point in your professional journey, entering an unfamiliar industry or pursuing a new trajectory can feel overwhelming.
The path from initial job search to the first day in your new role isn't strictly linear, and you'll need to prepare for a few stops along the way, like upskilling courses or resume revisions. Plus, you'll likely seek out guidance from your professional network or staffing agencies throughout the process.
Before you dive headfirst into a long list of applications, here are a few career transition tips to prepare for your upcoming job search.
#1 Evaluate Your Current Role
Before you begin searching for a new job, you should explore why a career transition appeals to you in the first place. Start with where you are today and think about where you want to go. Create a few pro/con lists for your current position. Identify the things you enjoy doing in your current career and the tasks you don't like. For example:
Pro: on-the-job training and experience in software engineering
Pro: data collection and analysis work
Con: ad-hoc QA work irrelevant to your role
Con: too many administrative tasks
You can also create a separate list that covers the cultural and structural aspects of your job. Is cross-team communication a priority? How's the work-life balance? Are there tangible growth opportunities?
While every career has advantages and disadvantages, this exercise will help you get a better sense of what you want to do more— and what you can leave behind.
#2 Research Potential Careers
Use your pro/con lists to seek out new job opportunities that align with your needs and preferences. You may know you want to transition to the IT industry, but in-depth research can help you find the best role for your personality, skillset, and goals. Leverage various tools like social media, online job boards, and your professional network to find open opportunities.
Next, identify the required qualifications and skills for different job postings to help find different suitable roles. As you network, try to find someone in the profession you're looking to enter who can give you more insight into the job's pros and cons. Be sure to ask questions on the day-to-day nature of the role as well as the technical skills you'll need for the job.
#3 Assess Your Skillset
As you sift through job listings or career development sites, take the time to evaluate how your skills match up to your ideal career path. Make a list of all the possible job roles you could apply your current skills to and find out what skills you are missing. As you compare your past roles to your career aspirations, go beyond tangible skills and formal certifications that seem to "match up" on paper.
Consider how your past experiences could benefit you in future career endeavors. Perhaps you have a decade of experience in conflict resolution or resource management in commercial construction instead of the technology industry. You can still highlight and build upon those essential characteristics and life skills during and after your career transition.
Once you've evaluated and organized your skills and career options, research the skills you need to succeed in your new position and look for educational resources to help you fill in the gaps. Take advantage of digital tools like online certification courses, industry-focused upskilling, and virtual boot camps that enable you to build or refine your skillset to match potential job roles.
#4 Update Your Resume
Deciding what to include on your resume can be challenging. You'll want to showcase all of your technical skills and certifications, plus the relevant experience you identified in step three. However, you should steer clear of a long, cluttered resume full of every minute detail from every past experience.
Take the quality over quantity approach to your resume, and don't be afraid to mention experience from other industries as long as you can relate it back to the job you're pursuing. As you write, try to connect your current skills and experiences to your future role. Also, be sure to highlight significant achievements and experiences gained throughout your career up to now.
Your varied experiences and skills demonstrate your willingness to pursue new learning opportunities as your career progresses. This shows employers you'll be more likely to deliver long-term value to their organization and go above and beyond to succeed in your new role.
#5 Pursue New Opportunities
With a clear career trajectory, completed training courses, and a top-tier resume in hand, you're ready to start applying for new job opportunities. Be sure you carefully review the required documentation for each application and submit all of your files at once. If you write a cover letter, be sure to highlight your skills and strengths and how they would benefit the specific job role.
As you search for job listings and open roles, consider partnering with a recruiter or career advocate who can connect you with jobs you may not have access to on general job boards. They can even open the door to new job roles that are an excellent fit for your skillset but may not have appeared in your initial research.
At CareerCircle, we walk with candidates through every step in their career journey, from initial job search to final interview and every step in between. Our career advocacy services and exclusive access to digital upskilling and certification programs enable us to open new doors for our members and promote equity in the workforce.
Reach out to our team today to see how we can help you discover new job opportunities, access virtual upskilling courses, or navigate a career transition.