Employ 3,000: How CareerCircle Is Changing 3,000 Lives
Our mission has always been to find jobs for underserved communities. We currently serve over 70,000 members with resources that have helped them upskill and reskill their way to a new job. But we always love a new goal.
Last year, we introduced the Employ 1000 challenge. We worked all year to connect 1,000 of our members to the right role for them. This year, we're aiming even higher.
In 2023, we're going to change 3,000 lives. Here's how we're going to do it.



The Why Behind #Employ3000
Our Operations Manager, Lindsey Meighan, said it best, "Our team has some big goals for 2023, but that is what excites us each and every day! It all starts from the why. When you have a clear mission and set out to change 3,000 lives, the people behind the goal really are your driving force. Nothing is more powerful than knowing we're serving our communities."
But we know that this is going to take hard work. To say that the current hiring world is a bit difficult is probably an understatement. It feels like everyday there are stories about layoffs at another major company, and smaller companies aren't immune either. Beyond that, job seekers are still fighting for good pay, less burnout at work, and a job that they're passionate about.
This goal isn't just about reaching further than we ever have before. It's personal.
Our Customer Success Manager, Lance Koenig shared, "Making an impact to even one life in a positive way is an achievement, let alone 3,000. Being able to support people and to help them achieve success is something that has driven me for over a decade and it is something that I plan on doing the rest of my life. If it wasn't for people helping support me, I would not have made it this far in life and in the spirit of that I will always pay it forward."
For some of our team, like AnnaMaria Sebastino, our National NPO Outreach Lead and Member Experience Coordinator, it was CareerCircle's work that changed their own life. "As someone who always held multiple jobs in order to make a comfortable living wage, I know on a personal level how important it is for employers to see your transferable skills. As someone who returned to my three jobs four weeks after giving birth to my daughter, I see the repercussions underemployment causes. I lost valuable time that I will never get back with my daughter because I was in the wrong jobs."
She went on to share how her life has changed since investing in upskilling. "I have seen for myself the doors that have been opened to me by upskilling with CareerCircle through the RISE Program and having the right advocates in your corner, like our recruiters. Suddenly, I was no longer siloed in one sector that had a 'ceiling' and didn't allow for growth. Our goal to place 3,000 individuals in jobs this year means a better quality of life for individuals and opportunities to live a life that they may have only dreamed of."
It's not just our customer-facing team members that are ready to work. The passion starts with the team that builds our platform. Our Enterprise Architect, Brent Ferree, ignites that effort when he leads our development team. "I am proud to say that I have the privilege of building a platform that is making a significant impact on people's lives. By helping individuals find new job opportunities that support their personal and professional growth, CareerCircle is changing the trajectory of their careers and improving their overall quality of life. It is incredibly fulfilling to know that the work I am doing is making a positive difference in the world."



Where We've Been and Where We're Going
The average demographic makeup of the IT industry today leaves quite a bit to be desired when it comes to representing the diverse workforces that we know succeed. This goal of helping 3,000 members find new roles goes beyond changing those 3,000 lives. It is tied directly to our overall mission to change the landscape of talent in the IT industry and beyond.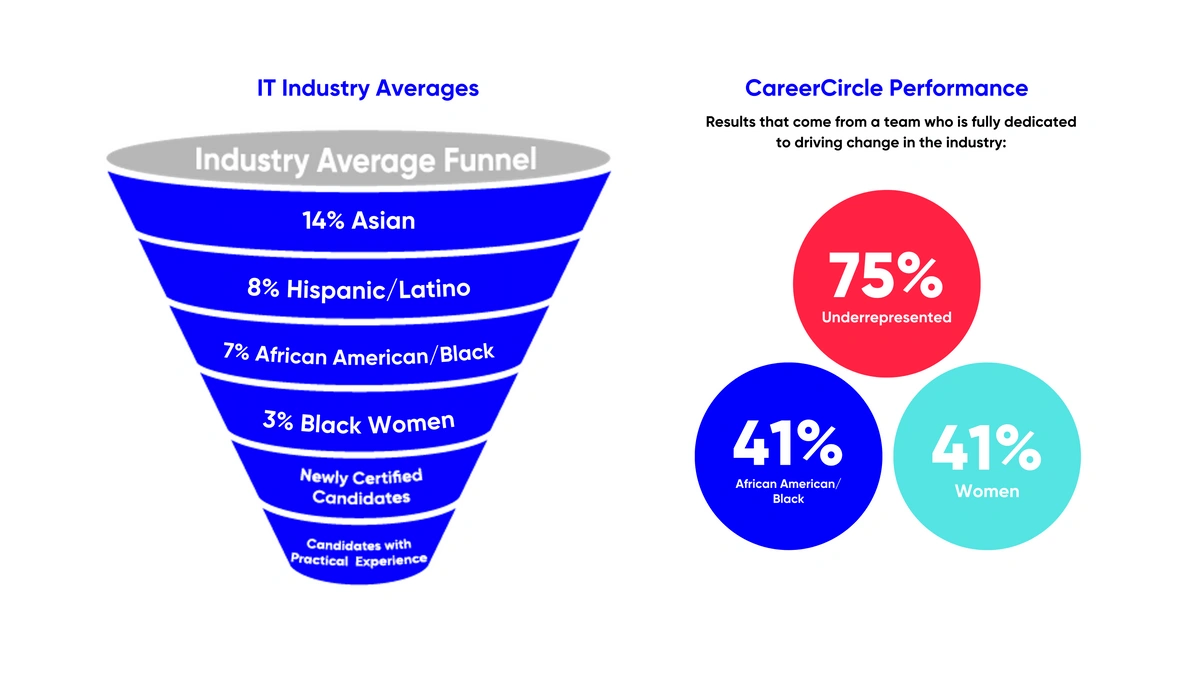 Source: U.S. Equal Employment Opportunity Commission and The National Center for Women and Information Technology
Here at CareerCircle, 75% of our member placements are veterans, women, and members of underserved communities and we intend to keep growing that number through efforts like our recent job fair on February 16th.
With 38 organizations and nearly 2,000 registered attendees, our inaugural job fair helped to facilitate conversations and build relationships between employers and our members with the right skills to excel. By the end of our fair, there were:
3,533 resumes submitted

64,495 total booth visits

2,285 conversations

And 16,432 total chats!
It blew our expectations completely out of the water! To stay in the loop of when our next fair will be happening, remember to keep an eye on our social media.



How To Get Involved
If you're an employer:
We partner with employers to help connect our skilled candidates with open roles. If you're invested in equitable hiring and bringing upskilled candidates to your roles, let's work together!
Embrace the 360° Candidate View: Go beyond the resume to look at other attributes and characteristics of candidates. The 360° view will allow you to better understand the whole person and what both their on-the-job experience and transferable skills can bring to the table.
Join the CareerCircle platform: If you want to get your roles in front of our members and directly source talent from our platform, schedule a demo today!
If you're a job seeker:
We know it's rough out there, but we're here to help!
Join the platform: First and foremost, sign up! You'll get access to discounts on courses, unstoppable advocates in your corner, and a community here to support you. The best part? It's totally free!
Follow us on social media: We'll be sharing all the updates about our Employ 3,000 challenge and everything you need to know about the CareerCircle community on LinkedIn, Facebook, Twitter, TikTok, and Instagram so head over there and follow along.
Set up job alerts: Nobody has time to scroll through job postings, but you do have time to set up job alerts so the right jobs are delivered right to your inbox. Here's how to do it.
Now we're going to get back to changing lives.
We'll see you in the circle!