How to Set Up Job Alerts to Find the Right Job Postings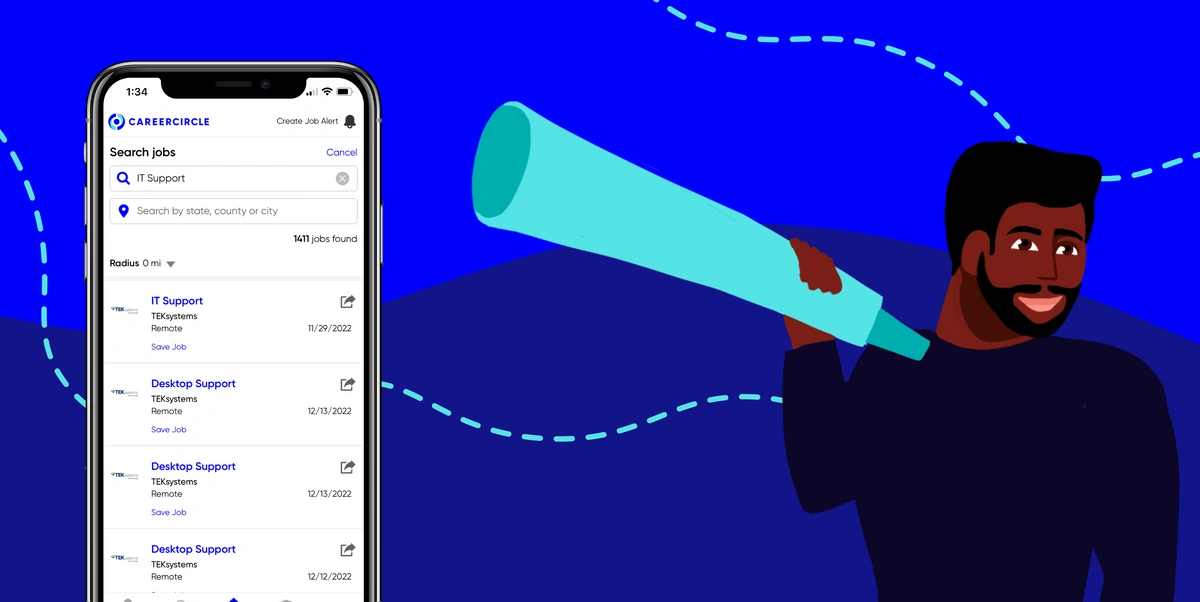 When you are on the job hunt, you might spend hours looking for jobs that align with your interests and experience. At CareerCircle, we streamline the process by allowing you to set up job alerts. As a CareerCircle member, you can set up multiple types of alerts focused on different positions, requirements, and more.
Our newest feature makes it easy to kickstart your notifications by setting up alerts based on your certifications.
Keep reading to find out how to get the most out of your profile. Never miss another job opening that fits your qualifications!
How Job Alerts Help the Job Hunt Process
When a job gets posted, applications often start flowing in quickly. So if you are looking for a new job, you want to get your foot in the door early on in the process. Our friends at The Mom Project note it's best to apply to 10-15 jobs per week and recommend applying within 24 hours if possible.
If that sounds like a lot, then you understand why it's important to combat job search fatigue. It's really important to streamline your process as much as possible.
Job alerts can help you see open jobs faster while reducing how much time you spend on the hunt.
And 34% of CareerCircle members found their new position through a job alert.
Our alerts make it easier to discover jobs that interest you and fit your qualifications without completing redundant job searches every day.
How to Set Up a CareerCircle Job Alert
Setting up CareerCircle job alerts is easy! Here's a quick walkthrough of how to get started.
1. Create an Account
First, complete your CareerCircle profile if it isn't already done. Your CareerCircle profile provides a 360° view so employers can see how you might fit into their open positions.
Put your best foot forward before you fill out any applications by completing this step. Pro tip: you can speed up this process by uploading your Certifications or resume first — CareerCircle uses the information to fill in your profile automatically!
Once your CareerCircle account is ready to go, you are ready to sort through available job openings and create alerts for new listings.
2. Open Alert Center
From your desktop or laptop, click on the dropdown menu under your profile picture in the top right corner and choose "Job Alerts & Settings." You can also access this menu on the blue bar where it shows "Dashboard," "Candidate360°," "Your Jobs," "Your Courses," and "Job Alerts & Settings."
From the CareerCircle app, click on the bell in the top right corner that says "Create Job Alert" and then click the "Create New" tab.
3. Create Multiple Alerts
Not sure exactly what kind of job you are looking for? CareerCircle makes it easy to set up various alerts to help you see anything that might interest you. Here are three key ways to set up your alerts.
Using Keywords
Start by creating job alerts that center around keyword-specific queries. An alert keyword could include terms employers might use, like:
Job Title

Skills

Industry Terms
As you start to type a keyword, we will suggest a list of commonly used terms. Choose one keyword per alert.
Each job alert will only have one difference from another alert. For example, if you want to see any listings that include "IT Support" or "IT management," then you would want both alerts to have the same location.
By Location
But what if you are willing to relocate, want to see remote options, or are willing to travel a bit to a nearby city? You can set up alerts with the same keywords and different locations to make sure you are covering your bases. This means (using the example above) you could set up "IT Support" for "Denver" as well as "Austin."
If you are interested in seeing remote options, make sure you click the "Remote" box. If you only want to see remote jobs, then check the "Remote" box and leave the location area blank.
By Certification
Finally, you can really kickstart your job hunt by incorporating your certifications into your alerts. With one alert, you can cover a lot of keywords! Just consider how many roles each certification could cover.
For example, creating a job alert based on your Google IT Support certificate would include postings for more than 20 distinct job titles, including Customer Support, Help Desk Technician, IT Assistant, and Technical Support Specialist.
Using your certifications for alerts allows you to cover a broader range of relevant job postings without creating an alert for every single keyword.
4. Download the App
Finally, you can use the app to create or edit job alerts while on the go. Our app makes it easier to look at job listings — no matter where you are. The CareerCircle app is free and easy to get from the app store.
Set Up Your Alerts Now!
Your next role is waiting. Set up your job alerts now to stay on top of listings that match your qualifications and career goals.