Equity in Hiring: Introducing CareerCircle's Employ 1000 Challenge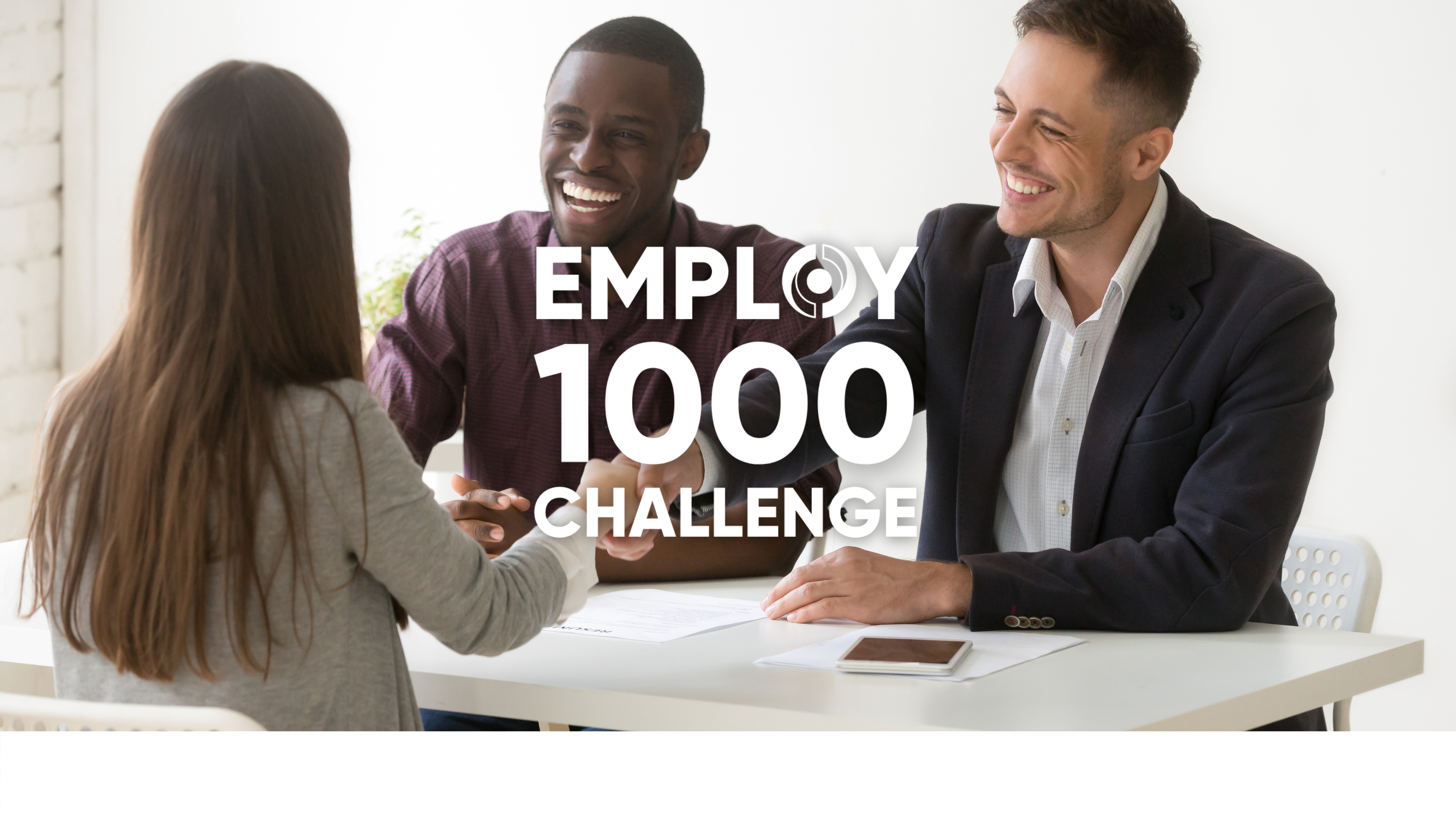 CareerCircle has always supported underserved communities with upskilling resources, mentoring, and exposure to open roles that align with their passions and skillsets. Now, we're taking our mission to new heights and asking employers to help us connect 1,000 job seekers with new career opportunities during 2022.
Helping Employers Source Right-Fit Talent
Turning DE&I commitments into measurable change requires leadership to tackle several efforts simultaneously, like building a diverse talent funnel, providing access to new technology training, and vetting job seekers as they enter the talent pipeline.
Hiring diverse, recently upskilled job seekers brings new perspectives and emerging skillsets to an organization. DE&I hiring helps fulfill strategic initiatives and connects employers with candidates who bring the right mix of past experience and new skills to the table.
"I was blown away by the level of talent CareerCircle presented. I would have hired every candidate I interviewed if I could." — Director of IT, Bvlgari
Bvlgari's Director of IT chose CareerCircle because they loved our mission of supporting underserved/underrepresented communities, women re-entering the workforce, and veterans. CareerCircle has been helping Bvlgari hire IT Support Technicians for the brand's high-end luxury goods stores in New York City and Miami, and the results they've seen from our partnership speak for themselves!
Our work with Bvlgari illustrates the value our member candidates bring to their new workplaces, as well as the long-term benefits we bring to organizations' staffing and recruiting strategies. Our Employ 1000 challenge will enable us to match more candidates to open roles, effectively changing job seekers' lives and putting more employers in touch with certified, highly motivated employees who will positively impact their bottom line.
Creating New Opportunities for Candidates
At CareerCircle, we help employers develop end-to-end talent ecosystems and access new pipelines to overcome the traditional barriers their internal staffing teams often face.
How? By looking at the whole person first to find the hidden attributes that people wouldn't typically apply to their resume or job search. We help candidates present a 360º view of themselves, uncovering the skills, interests, and passions that build their confidence. Then, we offer training to fill skills gaps and champion equity in hiring by connecting them with some of the country's leading employers.
"I give a lot of credit, praise, and appreciation to CareerCircle and the Google IT Support Certification. The CareerCircle team gave me incredible support and confidence at every step." — Brielle Sims
Brielle is an opera singer, but she needed a second career to support herself financially. Since she had no previous IT experience, Brielle's mom shared the Google IT Support certification with her.
After completing the upskilling course, Brielle partnered with CareerCircle to land a brand new, fully remote IT Support position at Mechdyne.
Our platform and career development services help candidates in underserved communities to reframe their job search. We connect them with the resources and partners they need to turn their existing skills and passions into relevant certifications in IT, data analysis, and other high-demand fields.
Ways Employers Can Participate
As a partner, you'll support equity in hiring, and you'll change the lives of deserving job seekers. In return, you'll be connected with recently qualified candidates. Here are a few ways to get involved:
Join the CareerCircle Platform: Share open roles on our job board and obtain licenses to source candidates directly from our talent pool.
Source Certified Candidates: Connect with recently upskilled members and fill open roles with the support of the CareerCircle recruiting team.
Fund Member-Focused Initiatives: Support career readiness programs and provide upskilling scholarships to CareerCircle members.
We guarantee you'll be surprised by the unique, in-demand skillsets our candidates bring to the table, along with the intangible qualities that will make them valuable assets to your organization in the long term.
Ways Candidates Can Participate
If you're not already a CareerCircle member, now is the time to join our circle! As our Employ 1000 Challenge continues throughout the year, we'll be adding more open positions, intern and apprenticeship opportunities, and upskilling courses to our website. Here are a few ways to get involved in and support our challenge:
Join the CareerCircle Platform: Create your candidate 360º profile, upload your resume, and start connecting with employers through our free member platform.
Follow Us on Social: Get the latest updates on the Employ1000 challenge by following CareerCircle on social media.
Spread the Word: Share our posts or create your own using the #Employ1000 hashtag to bring awareness to this exciting new challenge!
As a member, you'll get exposure to employers who are interested in hiring recently upskilled candidates like you! Plus, our mentorship team can help you revamp your resume, map out your career development goals, prepare for job interviews, and much more, all through our free, candidate-focused online platform.
Ready to get started?