How Equitable Staffing and Recruiting Companies Match Candidates to Careers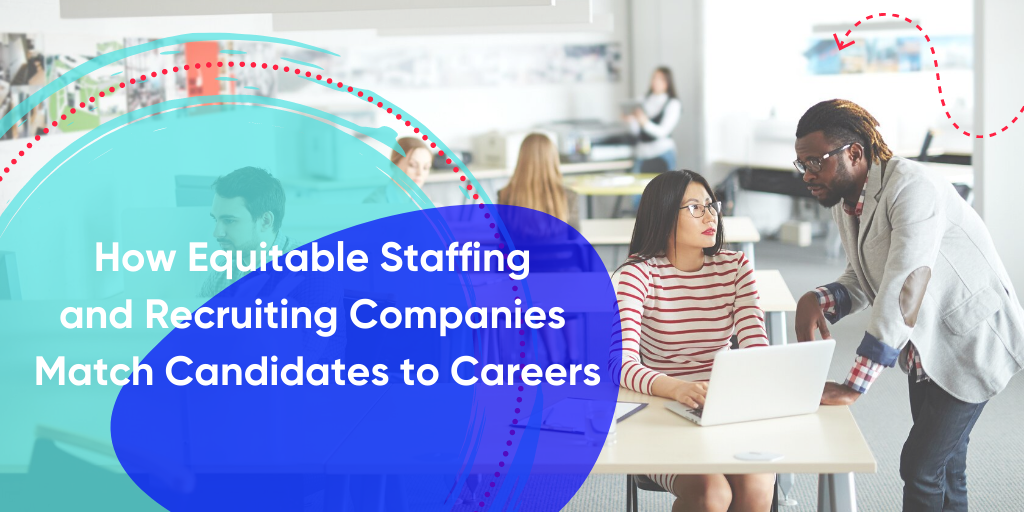 In today's talent marketplace, finding the right candidate for the job is more challenging than ever. In fact, over 72% of recruiters are struggling to find relevant candidates. Combine this with the fact that candidate expectations around job fit and company culture are at an all-time high, and your internal talent teams are in a tough spot.
To keep up with demand and attract the right candidates, employers must adopt hiring practices that are equal parts efficient and equitable.
Staffing and recruiting companies can help organizations reduce time-to-hire without compromising on candidate quality. Plus, they give internal talent teams the resources they need to strategically source and evaluate job seekers rather than rely on an automated resume tool or an outdated list of job requirements.
But how does equitable sourcing and staffing work behind the scenes?
Diverse Sourcing Strategies
Many organizations turn to online job boards or even branded microsites to bring awareness to open positions. And while these tools have the potential to reach a large audience, they don't give employers much control over their talent pools.
Although these sites often produce long lists of applicants, they're not guaranteed to be the right fit for your role — despite having the "right" phrases in their resume. As a result, your internal teams take on extra work during the interview and assessment process to weed out these poor-fit candidates.
Unlike a resume-sorting algorithm or generic job site that pulls in hundreds of unqualified applicants, staffing and recruiting companies develop networks and processes that are proven to bring the right-fit candidates to your open roles.
These companies source talent proactively by partnering with non-profits and career-mentoring programs to fill your talent pipeline with great candidates.
Rather than asking internal teams to spend months identifying non-profit partners, building trust, and reaching out for candidate recommendations, you can lean on the networks developed by your staffing and recruiting partner.
You'll gain access to a new pool of candidates and enable your teams to source candidates for open roles from underserved communities – like veterans, BIPOC, or moms re-entering the workforce. When you work with an equitable staffing and recruiting company, you'll make more candidate connections as your staffing partner expands its network among these communities.
Career Development Resources
When it comes time to fill an open role, your internal recruiters likely evaluate candidates on a list of technical qualifications or job requirements. This approach helps teams keep up with fast-paced hiring needs, but it can lead to poor retention rates if new hires aren't a good cultural fit. Plus, it limits your ability to connect with candidates who may have the perfect soft skills to thrive at your organization just because they're missing a certification.
Equitable staffing and recruiting companies get ahead of the talent deficit by giving candidates the resources they need to succeed in a highly competitive marketplace. They partner with leaders in IT and other high-demand fields to create upskilling opportunities through online courses, technical certifications, and more.
These staffing companies also offer career-mentoring services and other high-value tools to help candidates connect the dots between their new certification and their next career move. This proactive, purpose-driven approach to talent acquisition benefits both sides of the hiring process, opening new doors for deserving candidates and providing employers with a diverse, qualified talent funnel.
360° Candidate Profiles
As the global talent marketplace evolves, many employers are looking to shift from strictly resume-based evaluations in order to source right-fit candidates and promote workplace diversity. Eighty percent of talent professionals believe soft skills like creativity, adaptability, and collaboration are vital to company success.
The good news is, staffing and recruiting companies provide a scalable evaluation framework that benefits employers and candidates alike. Rather than aggregating hundreds of cookie-cutter resumes for your teams to skim through, they can evaluate candidates through:
Interactive video introductions
Personality and career assessments
Bios that create a 360° view of each candidate
This holistic approach to hiring promotes workforce equity, creates new opportunities for underserved candidates, and even helps your hiring teams step away from piles of paperwork in favor of personal connections with job applicants.
Instead, they can use qualitative tools to evaluate characteristics like work ethic, past experiences, and motivations alongside industry expertise and technical skills. This approach also supports diversity, equity, and inclusion by giving candidates a chance to present the complete picture of who they are as a person, not just a number on screen or a name on a sheet of paper.
-
CareerCircle gives you access to a diverse talent pipeline and holistic candidate-to-career matching tools to help you develop an equitable workforce and drive ongoing value for your organization.
Plus, we support job seekers and employers alike through our talent management platform and upskilling resources designed to promote DE&I and create lasting connections between candidates and careers.
Reach out to our team today to learn more about our talent marketplace and our commitment to creating equity in the workforce.