Championing DE&I in Tech: Creative Ways To Source Candidates From Underrepresented Groups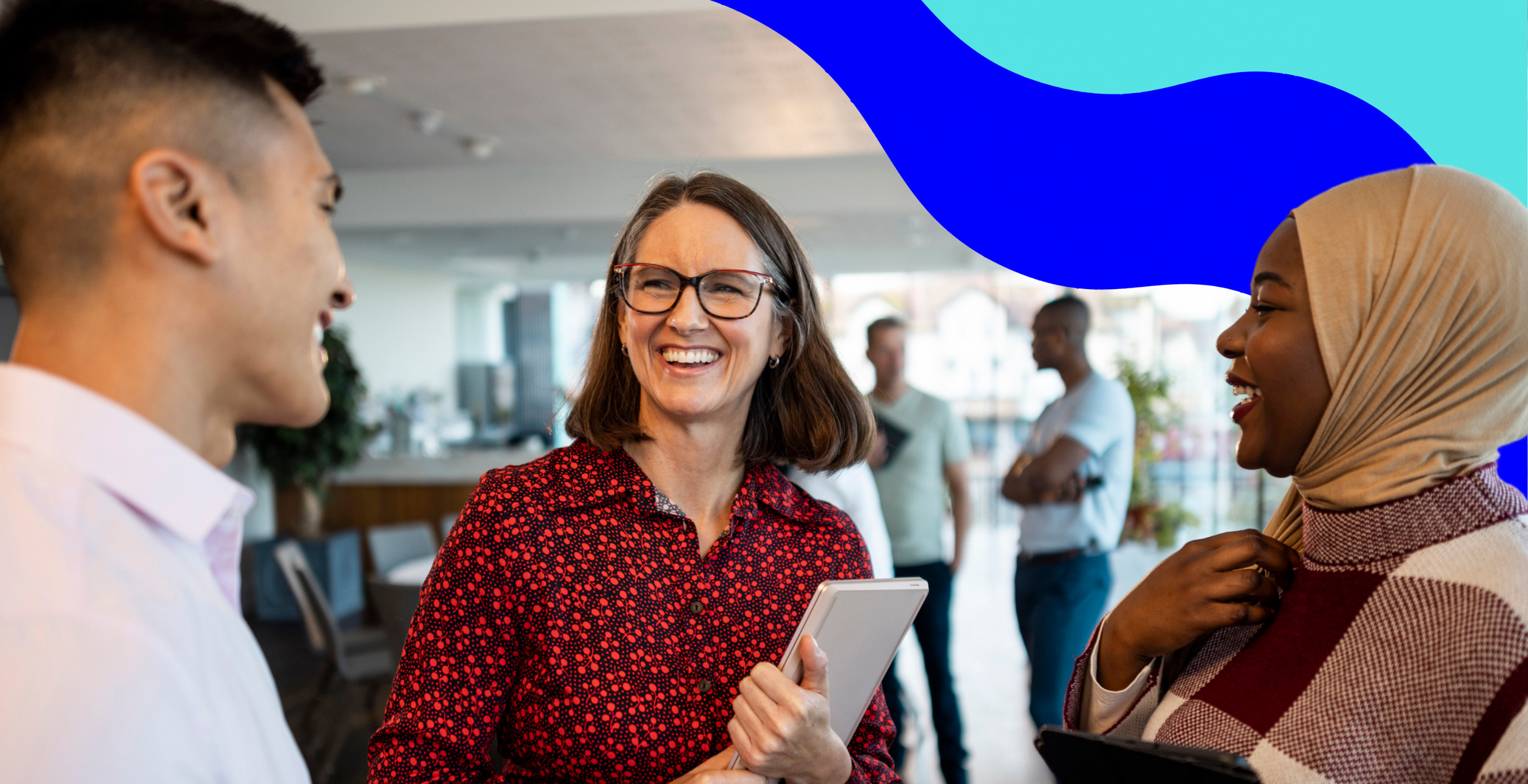 Most tech companies don't have a history of prioritizing diversity, equity, and inclusion (DE&I) in their hiring and workforce development strategies. In fact, a 2021 survey found that 68% of business leaders still saw a lack of diversity in their tech workforce.
Fortunately, DE&I has become a core focus of many tech companies' hiring efforts in recent years.
Rather than simply adding DE&I statements to their culture codes or establishing committees within their existing workforce, these technology organizations want to grow in an equitable, inclusive way.
Today's tech employers are looking for creative ways to source candidates from diverse backgrounds who may not fit the cookie-cutter mold of what tech employees looked like in the past.
So, how can tech companies connect with diverse candidates and integrate DE&I into their hiring efforts?
If your organization wants to attract and retain diverse, highly qualified talent, you must rethink how you source and evaluate candidates across the entire hiring process. This process starts at the top of your talent funnels.
Diversifying Your Top-of-Funnel Talent Sourcing Efforts
No matter your size or specific hiring goals, expanding your top-of-funnel targets can help you identify and connect with candidates from non-traditional talent pools.
You may already work with a staffing agency to source candidates with a tech background or relevant work experience. These sources can be valuable, but they typically don't support underrepresented groups, like veterans, racial or ethnic minorities, and moms returning to the workforce. Instead, employment recruiters rely heavily on resumes and other traditional measures to match them to open roles.
To reach candidates with diverse backgrounds, your organization must connect with resources that work directly with underrepresented communities.
Working through nonprofits or community outreach organizations is one of the best ways to connect with diverse talent groups that aren't in your typical circles. For example, you might seek out a talent sourcing partner that provides career development resources to the BIPOC community or one that helps veterans or parents re-enter the workforce by connecting them with employers.
However, establishing and developing relationships with these external partners can take significant time and effort. And when your hiring team is up against time-sensitive hiring initiatives, they'll likely default back to familiar sourcing strategies rather than reaching out to form new connections.
You can't solely rely on your HR or hiring teams to establish nonprofit partnerships and add diverse candidates to your workforce. Instead, you should take a proactive approach to talent sourcing and provide job seekers with multiple unique opportunities to get their foot in the door at your organization.
Creative Ways to Source Candidates From Diverse Backgrounds
1. Create Returnship or Apprenticeship Programs
So many job seekers are overlooked by potential employers due to a lack of relevant work experience — even if they possess the required technical skills or certifications for a role. These individuals are stuck in a frustrating cycle; they can't get a job without experience, but can't gain experience because employers won't hire them.
Returnship and apprenticeship programs can offer these candidates the unique opportunity to learn and train at your organization, gaining valuable skills and experience while learning the ropes of your internal operations. Returnship programs are great for diverse candidates who have taken some time off from the workforce or those with limited experience in their desired job field.
Consider developing returnship programs for the most in-demand positions in your organization. Use them to help candidates upskill, learn from experienced mentors, and train for the position they want to move into. Your returnships should compensate participants for their time, making them a feasible option for job seekers who don't have the means to work for free at an unpaid internship or apprenticeship.
Program participants will gain valuable knowledge and real-world experience, and you'll gain new, highly qualified candidates ready to move into a full-time position as soon as they complete the program.
2. Enable Remote Work
Depending on the location of your office or headquarters, you may not have access to diverse talent resources in your local community. What's more, requiring applicants to live in a specific geographic region and commute to an office daily can prevent many eager, well-qualified candidates from applying to your open role.
Sometimes, diversifying your sourcing strategies means more than working with a new set of recruiting partners in your area. Opening your organization up to remote work will allow you to access a much larger pool of candidates from all backgrounds and walks of life without the limitations of physical location.
Enabling remote work gives you access to a lot of talent you wouldn't have if you stayed local. It also equips you to better support working parents and other employees who need a bit of extra flexibility in their workdays compared to what they would find at a traditional office job.
3. Prioritize Internal DE&I Education
The true impact of your DE&I efforts goes far beyond who and how you hire new employees. To retain diverse hires and initiate positive change across your organization, you need to foster a welcoming, inclusive atmosphere and ensure every employee feels safe and comfortable.
Beyond refining your hiring practices and updating your company culture code, look for opportunities to infuse inclusivity into the many activities that occur at your organization every day. Educate your entire workforce on the value of DE&I and encourage them to live out your values in their day-to-day interactions with colleagues.
Equip managers and other leaders with the tools and resources they need to openly and respectfully discuss workplace inclusivity with their employees. On the flip side, be sure every employee feels empowered to advocate for themselves and has access to a reliable, trustworthy support system in case they ever encounter discrimination or any other concerns in the workplace.
4. Find a Trusted Talent Acquisition Partner
It takes patience, diligence, and a lot of work to enact measurable, lasting change in your workforce development efforts. Maybe your hiring team simply doesn't have the resources to reach out to nonprofit groups, or perhaps they're too overwhelmed with time-sensitive hiring needs to focus on a long-term workforce development strategy.
No matter your goals or challenges, the right talent partner can help you turn your DE&I promises into real-life progress. They can connect you with diverse candidates, help you map out short- and long-term hiring goals, design custom returnship programs, and more, all to help your organization develop a more diverse workforce and a more inclusive work environment.
Look for a partner that specializes in working with underrepresented groups, like CareerCircle.
Our unique approach to talent development is rooted in candidate advocacy and workforce equity. We specifically focus on helping BIPOC candidates, veterans, and workforce returners upskill to find jobs in tech and related industries.
Integrate DE&I Into Your Hiring Efforts With CareerCircle
At CareerCircle, we help employers rethink their approach to hiring and connect them with diverse, recently upskilled candidates through our long-time community partnerships. We help employers grow their workforces and champion DE&I by:
Maintaining partnerships with nonprofits and organizations that work closely with underserved communities

Partnering with tech brands to upskill job seekers with relevant, in-demand career certifications

Connecting employers with diverse, recently upskilled candidates on our free online platform

Give employers a 360° view of each CareerCircle candidate through detailed profiles, video intros, and more!

Working closely with employers to develop custom sourcing and workforce development strategies

Helping employers establish custom returnship, apprenticeship, and internship programs
Ready to see how CareerCircle can support your organization's DE&I initiatives and help you source diverse, highly qualified candidates? Create a free account today to get started.